June 1st.  Enough patting ourselves on the back – time to get back to work!
But what to work on?  Cinnamon, Nemo?  Something else?
It's a constant process of iterating over our projects, and gradually refining here, fixing there.  The issues lists guide us to a certain degree, along with a set of long term goals laid out.   But in between it's often a matter of what catches our fancy – some days I'll check out a problem someone is having, and decide I'm not stopping until I've fixed it – and there can be just as much a sense of satisfaction fixing that minute detail as there is implementing a slick new feature that everyone's been clamoring for.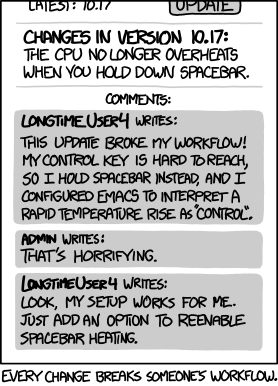 I know (and I've read) that it can be frustrating to be experiencing a bug, and seemingly have that bug ignored for months and months.  It's never that we don't care, or we think, 'that's not important.'  You have to understand, it's 1000x easier to fix a bug when it can be reproduced – and that can often be difficult.  Or an issue can be reproduced, but there's just no obvious fix.  There are a limited number of us – like any team, we have to optimize our efforts – if we spend an inordinate amount of time on one issue, other things suffer.
In the few days since Mint 15 was released, I've noticed dozens of things I personally want to fix or address – will I get to them all?  Only time will tell.  Probably not, but it's all about continuous improvement.  That's what's so enjoyable about participating in development – there's always something to do.